Anti-Blue Light Gaming Glasses
SKU:

32959195676
-

50

%
Roll over image to zoom in
Click to open expanded view
Reduce Visual Stress & Digital Eye Strain
Our Anti-Blue Light Gaming Glasses are engineered to eliminate digital eye strain and recommended by doctors to protect your vision during computer and device usage.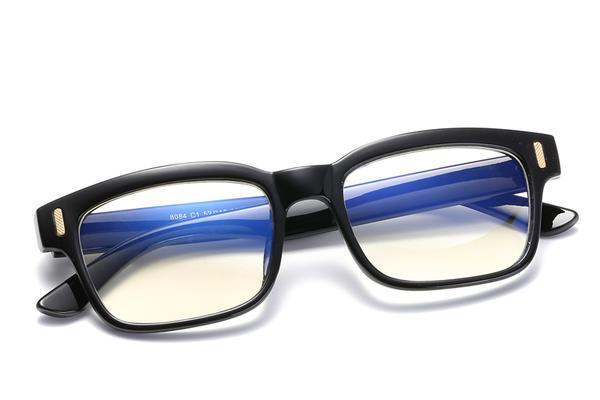 Why Choose Blue Light-Blocking Glasses?
The special lenses eliminate eye-strain and reduce headaches caused by scattering blue light. Your eyes don't have to work as hard to focus on that high-energy, short-wavelength spectrum, in turn minimizing fatigue.
As a result of using these glasses, you will be able to fall asleep faster, stay asleep throughout the night, and wake up feeling much better-rested. Filtering blue light helps regulate melatonin production and helps your body adjust back to its natural sleep rhythm.
Long term blue light exposure can lead to serious medical conditions such as macular degeneration. Rather than treating this condition later in life, it's far more beneficial to prevent it all together.
Our Gaming Glasses are used to:
✅ Block Blue Light
✅ Reduce Digital Eye Strain
✅ Prevent Dry Eyes
✅ Minimize Glare
✅ Help You Sleep Better
Our Clear Lenses vs. Popular Blue Light Filtering Software
IT'S TIME TO ELEVATE YOUR EYE PROTECTION GAME!
Ready to ship in 3-5 business days
---
Shipping Policy
---
Orders of $25 or more of eligible items qualify for FREE Shipping. Shipping is free if your order includes at least $25 of eligible items. Any item with "FREE Shipping" on the product detail page that is fulfilled and shipped by Fedazon is eligible and contributes to your free shipping order minimum.
---
Refund Policy
---
Refund policy
Our policy is valid for a period of 30 calendar days from the date of the purchase. If you receive your order and are not satisfied for any reason you can return the product for a refund. If the period of 30 days has lapsed since the purchase, we can't, unfortunately, offer you a refund.
Refund requirements
The following criteria must be met to qualify for a refund:
Product is defective
Product is not as described
Product must be unopened
Product must be in original packaging
Product must be unused
Product must not be damaged
In order to ensure the above criteria has been met, all returns will be inspected. If the product does not meet the listed criteria, we reserve the right not to issue a refund.
Proof of purchase
To complete your refund, we require a receipt, purchase order or other proof of purchase. Please note that without the aforementioned proof of purchase, we will not issue a refund but will provide you with a store credit instead.
Shipping items
In order to return an order, you must contact us first and obtain and include a Return Merchandise Authorization (RMA). Returns will not be accepted without a valid Return Merchandise Authorization.
Returns can be mailed to: 325-41 Chestnut Street Philadelphia, PA 19106. You will be responsible for paying for the shipping costs with regard to the items that you wish to return. We will not refund the shipping costs.
You must take care to ensure that the goods are properly packaged so that they will not be damaged while in transit. If the product is found damaged or used beyond what it takes for us to reasonably inspect it, then we may reject a refund.
All refunds will be subject to a 20% restocking fee.
Contacting us
If you would like to contact us concerning any matter relating to this Refund Policy, you may do so via the contact form
Only logged in customers who have purchased this product may leave a review.
Vendor Information
Store Name:

Fedazon

Vendor:

Fedazon
Address: 325-41 Chestnut Street
Suite# 800
Philadelphia, PA 19106
The admin can add and update a definite refund policy for the customer in this portion.